Since the dawn of our reasoning faculties we have tried to understand the universe around us. This enquiry has led to the evolution of science, religion and, more recently, spiritual science. Martinus Cosmology is such a spiritual science. It examines the meaning and purpose behind all physical and mental events in the universe. It looks at the law of cause and effect, the difference between the creator and the created, the law of contrasts and the absolute reality of eternity and infinity. It also shows that prayer has a clear scientific basis, the understanding of which can contribute to one's understanding of both the pleasant and unpleasant occurrences in one's life. It looks into life on all levels – the microcosmic, the mesocosmic and the macrocosmic – and can be said to be a theory or science of everything, a science of the consciousness of God.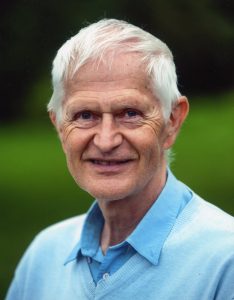 In the seventh episode of the Martinus Cosmology Podcast, Mary McGovern interviews Ole Therkelsen from Copenhagen, Denmark on Martinus Cosmology, God, the universe and science.
Ole Therkelsen (born in 1948) is a chemical engineer and a biologist with a life-long interest in Martinus Cosmology. He was introduced to Martinus Cosmology by his parents when he was a small boy, and since 1980 he has given over 1500 lectures on Martinus's world picture in fifteen countries in six different languages. Many of his lectures may be heard on http://www.oletherkelsen.dk and on http://www.youtube.com. He is the author of Martinus, Darwin and Intelligent Design – A New Theory of Evolution and Martinus and the New World Morality.
This podcast was recorded by Mary McGovern at the Martinus Institute, Frederiksberg, Copenhagen on 7th February 2018.
Ole Therkelsen's books can be purchased at http://amazon.com and http://amazon.co.uk.
Martinus's literature is available online on the Martinus Institute's website: http://www.martinus.dk/en. Here you can also find information about the international summer courses at the Martinus Centre in Klint, Denmark.
Music composed and performed by Lars Palerius.
Photo: Berit Djuse.