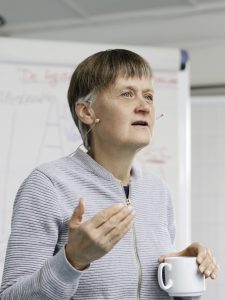 Why are there so many conflicts in society today? Why are phenomena such as poverty and pollution such pressing issues? Can they be solved? Where is human evolution heading?
Mary McGovern interviews Karin Jansson on these and other issues such as the intelligence of Nature, cycles and recycling, the reorganisation of agriculture so as to be in harmony with Nature and the ideal cooperation between people that will render these changes possible.
An experienced lecturer and teacher of Martinus Cosmology and a member of the voluntary teaching staff at the Martinus Centre, Klint, Karin Jansson is also a journalist, the editor of the Swedish magazine Odlaren (The Grower) and one of the founders of a school in Holma, Sweden that runs courses on permaculture, among other things.
This podcast was recorded by Mary McGovern at The Martinus Centre, Klint, Denmark on 5th May 2019.
Music composed and performed by Lars Palerius. Martinus' literature is available online on the Martinus Institute's website: The Martinus InstituteThe Martinus Institute. Here you can also find information about the international summer courses at the Martinus Centre in Klint, Denmark