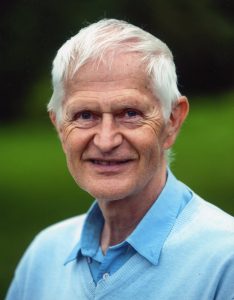 The Martinus Cosmology Podcast presents the first in a series of lectures given in English by Ole Therkelsen.
In "The Road towards the Light" Ole Therkelsen describes some of the core principles and laws of life that are central to Martinus's world picture. This world picture is eternal, even though we experience our daily lives from a temporal perspective. Life can be viewed in two perspectives: the eternal perspective and the temporal perspective. Confusion can arise when we fail to acknowledge both perspectives. War, illness and all forms of suffering are of course very unpleasant, but from an eternal perspective these things, like everything else, are "very good". "Behold, everything is very good", the Bible states. This is not a cynical view, but an explanation of the role of darkness. All darkness forms the contrast that is essential to our ability to experience light at all. The principle of contrast is an eternal principle, as is the principle of cycles and the principle of hunger and satiation, which drives us away from what we are tired of and towards what we are longing for. This lecture can support us in our attempts to understand the "direct speech of life" and to regain our long-lost consciousness of eternity.
Ole explains Martinus's symbol no. 4 "The Road towards Light" in this lecture. You can see the symbol and read a short explanation here: https://www.martinus.dk/en/martinus-symbols/overview-of-the-symbols/symbol-4
The symbol is explained in detail in The Eternal World Picture, vol. 1 (https://shop.martinus.dk/en/english-books-10/major-books-38/the-eternal-world-picture-vol-1-188.html) and Livets Bog (The Book of Life), vol. 1 (https://shop.martinus.dk/en/english-books-10/major-books-38/livets-bog-the-book-of-life-vol-1-186.html), both by Martinus.
Ole Therkelsen (born in 1948) is a chemical engineer and a biologist with a life-long interest in Martinus Cosmology. He was introduced to Martinus Cosmology by his parents when he was a small boy, and since 1980 he has given about 2000 lectures on Martinus's world picture in fifteen countries in six different languages. Many of his lectures may be heard on http://www.oletherkelsen.dk and on http://www.youtube.com. He is the author of Martinus, Darwin and Intelligent Design – A New Theory of Evolution and Martinus and the New World Morality. His books are available from http://amazon.com and http://amazon.co.uk.
This lecture was given by Ole Therkelsen at The Martinus Centre, Klint, Denmark on 27th July 2004.
Music composed and performed by Lars Palerius.
Photo: Berit Djuse.
Martinus's literature is available online on the Martinus Institute's website: martinus.dk. Here you can also find information about the international summer courses at the Martinus Centre in Klint, Denmark