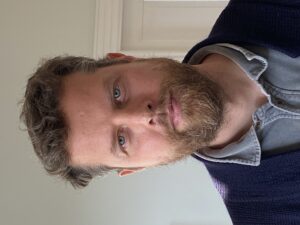 At the age of six, Andreas Skovby Hansen almost drowned after falling into the water from a jetty where his parents' boat was moored. In this interview with Mary McGovern he describes a near-death experience he had while sitting on the seabed, an experience that he re-experienced 13 years later at the age of 19. Andreas talks about this and other paranormal experiences he has had and about how Martinus Cosmology has provided a framework to help him understand and find meaning in the trials and tribulations of daily life.
Andreas Skovby Hansen (born in 1978) is a part-time schoolteacher and a student of didactics at Aarhus University, Denmark.
This podcast was recorded by Mary McGovern on 15th November 2020 at the Martinus Institute, Copenhagen, Denmark
Music composed and performed by Lars Palerius.
Photo: Mary McGovern
Martinus's literature is available online on the Martinus Institute's website. Here you can also find information about the international summer courses at the Martinus Centre in Klint, Denmark. Martinus's books can be purchased here: https://shop.martinus.dk/en/english-books-10/