The Martinus Cosmology Podcast presents the fifth in a series of lectures given in English by Ole Therkelsen.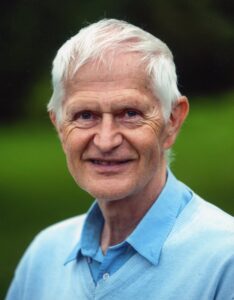 Ole Therkelsen describes the transformational spiritual experience that Martinus had 100 years ago on 24th March 1921 that enabled him to experience the laws and principles of life. This formed the basis of his authorship of Livets Bog (The Book of Life) and many other works. His world picture was not in the absolute sense "his". It is an eternal world picture to which his consciousness opened up. He said that he "gained access to the ocean of knowledge".
He also created the Martinus Institute as the administrative centre of his work and the Martinus Centre in Klint, Denmark as an education centre for courses. He predicted that the centre would one day become a university for the study of the world picture he described. Ole described the guidelines set out by Martinus for how co-workers at the Institute and the Centre should cooperate in a harmonious and friendly way.
Ole Therkelsen (born in 1948) is a chemical engineer and a biologist with a life-long interest in Martinus Cosmology. He was introduced to Martinus Cosmology by his parents when he was a small boy, and since 1980 he has given about 2000 lectures on Martinus's world picture in fifteen countries in six different languages. Many of his lectures may be heard on http://www.oletherkelsen.dk and on http://www.youtube.com. He is the author of Martinus, Darwin and Intelligent Design – A New Theory of Evolution and Martinus and the New World Morality. His books are available from http://amazon.com and http://amazon.co.uk.
This lecture was given by Ole Therkelsen at The Martinus Centre, Klint, Denmark on 29th July August 2006.
Music composed and performed by Lars Palerius.
Photo: Berit Djuse.
Martinus's literature is available online on the Martinus Institute's website. Here you can also find information about the international summer courses at the Martinus Centre in Klint, Denmark