The Martinus Cosmology Podcast presents the fourth in a series of lectures given in English by Ole Therkelsen.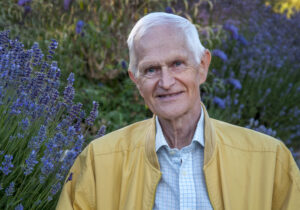 To launch our celebrations of the 100th anniversary of Martinus's experience of cosmic consciousness on 24th March 1921 we present this lecture in which Ole Therkelsen describes Martinus's process of initiation and the opening of his talents for cosmic consciousness. It was this opening that paved the way for Martinus writing his works, which, towards the end of his life, he decided should be collectively entitled "The Third Testament". Many religious and spiritual communities around the world have waited and are still waiting for the return of the messiah, the second coming of Christ. Krishnamurti, for example, was groomed to be the new world teacher until he himself rejected the role. According to Martinus, this second coming is nothing less than the birth of cosmic consciousness in each and every single one of us. This demands moral growth to a standard where we, like Christ, can love our enemies and forgive all those that hurt us. To support this moral growth, Martinus has provided us with a spiritual science – a science that analyses the eternal and the temporal, the macrocosmic and the microcosmic, God and the individual living being. He humorously expressed his intention as being "to show that it pays to be good".
Ole mentions a sculpture of Christ by Bertel Thorvaldsen, a Danish sculptor. Here is a photo of it from the Church of Our Lady in Copenhagen. (Photo: Wikipedia)
Ole mentions Martinus's symbol no. 23 "The Finished Human Being in God's Likeness" in this lecture. You can see the symbol and read a short explanation on the Martinus Institute's homepage.
The symbol is explained in detail in The Eternal World Picture, vol. 2 by Martinus.
Ole Therkelsen (born in 1948) is a chemical engineer and a biologist with a life-long interest in Martinus Cosmology. He was introduced to Martinus Cosmology by his parents when he was a small boy, and since 1980 he has given about 2000 lectures on Martinus's world picture in fifteen countries in six different languages. Many of his lectures may be heard on http://www.oletherkelsen.dk and on http://www.youtube.com. He is the author of Martinus, Darwin and Intelligent Design – A New Theory of Evolution and Martinus and the New World Morality. His books are available from http://amazon.com and http://amazon.co.uk.
This lecture was given by Ole Therkelsen at The Martinus Centre, Klint, Denmark on 8th August 2007.
Music composed and performed by Lars Palerius.
Photo: Berit Djuse.
Martinus's literature is available online on the Martinus Institute's website. Here you can also find information about the international summer courses at the Martinus Centre in Klint, Denmark