Today's world may seem to be a difficult place to live in, since many people suffer from wars, terrorism, poverty and starvation. Other people are worried about how to deal with migration and refugees, environmental problems and many other global issues. So how can we understand the world situation today and keep our inner balance?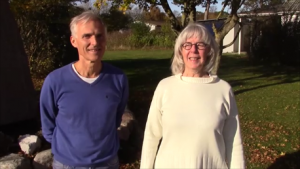 In the third episode of the Martinus Cosmology Podcast, Mary McGovern from Scotland and Sören Grind from Sweden talk about the present world situation from the overall, long-term perspective of the Danish writer Martinus's world picture.
Many people today become involved in international organisations in order to increase global co-operation, thus promoting peace and progress all over the world. At the same time, however, we also see a rise in nationalism and protectionism, and the closing of borders to an increasing number of countries. In this podcast episode, Mary and Sören discuss how we can find an explanation for these diverging tendencies in Martinus's description of the general evolution of mankind from the animal kingdom to the real human kingdom.
In spite of all the difficulties and sufferings that people have to endure at the moment, Martinus' s world picture describes a very optimistic and positive future. According to his analyses, it is necessary for all human beings to go through the present stage of evolution in order to finally grow out of their primitive and egoistic tendencies, and instead develop their humane abilities. The goal of the evolution of mankind is an ultimate kingdom of peace and happiness for all living beings on Earth.
The podcast episode is moderated by Pernilla Rosell (Sweden). It was recorded at the Martinus Centre, Klint in the autumn of 2016.
Martinus's literature is available online on the Martinus Institute's website: http://www.martinus.dk/en. Here, you can also find information about the international summer courses at the Martinus Centre in Klint, Denmark.